How on earth do you choose one favourite book ever? I can't , I really couldn't. I started reading at a very young age and have never stopped but I have to admit as an adult although I read lots of fabulous books that I love, I never read them again. So, I can only tell you about the books that fueled my passion for reading. I longed to enjoy children's classics such as The Old Curiousity Shop by Charles Dickens or The Gardens of Green Knowe by Lucy Boston but I am as fussy about books as I am about shoes. I am pretty much anti-classic! I love Romeo and Juliet as a ballet but reading Shakespere doesn't do it for me but on the other hand I loved Canterbury Tales by Chaucer. I did also love Little Women by Louisa May Alcott and my daughter has read them avidly too.
There were the obligatory Enid Blyton books, I don't think there is one book of hers that I never read, I wanted to be in the Secret Seven and Famous five gangs, wondering why nothing as exciting as that never happened to me and I longed to live in The Faraway Tree. I do have many many childhood memories of books that I did read over and over again.
First up is Robin Hood. I have searched the house looking for the copy that I refer to but sadly I can't find it. It is a 1950's version which was awarded to my uncle as a school prize. Good old fashioned drama, adventure and romance.
Then there is Huckleberry Finn and The Adventures of Tom Sawyer by Mark Twain.  Although I am a girly girl the tom boy in me so wanted to be as adventurous as these two mischievous boys. I read these over and over again.
Last but not least I read this at secondary school but it made a huge impression on me, Z for Zachariah by Robert O'Brien, so much so it never [cough] made it's way back to school and sits on one of our many book shelves. It depicts the devastation left after a nuclear war in America.
Nowdays a lot of my reading time is spent reading books to see if they are suitable for my twelve year old daughter, the downside, or perhaps upside is that I keep lusting after the characters in the books!
This has been posted for the Friday Club Carnival over at Notes from Home. Click on the badge for more information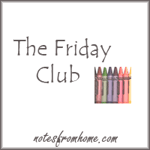 Here are the other entries in this Book Carnival:
Jax from Making It Up reviews ten favourite books she loves to read with her children in My favourite books.
Kelly from Domestic Goddesque posts about the book that gave her back the joy of losing yourself in a book in I read books once. Now I have small children.
Jenny from GingerBread House reviews her favourite book: Orla Kiely – Pattern.
Not So Single Mum from Diary of a (not so) Single Mum reviews The Lady in the Tower.
Becky from Book Reviews for Mums reviews the book that opened her up to her responsibilities and the choices she makes in life in My Favourite Book.
Helen from Cheeky Wipes reviews her favourite books in From Riders to The God Delusion – my favourite books.
Cass from The Diary of a Frugal Family reviews her first and favourite cookbook in Where It All Began.
Cara from Freckles Family reviews a favourite from the past few years in A Favourite Book.
Maggy from Red Ted Art reviews a recent gift, a Pop-up, Pull-out, Picture Atlas.
Ella from Notes From Home reviews Sad Book.