I won't bore you all, I am sure you all know what Twitter is but in a nutshell:
Twitter is a social networking and micro blogging service which enables people to send Tweets.
Tweets are messages of 140 characters that are only seen by people either following you or looking at your timeline.
My twitter name is @cherishedbyme but it hasn't always been that
It took a bit of perseverance on my part to keep going with Twitter, everyone I followed at first was in a different time zone but eventually I found that my phone could pick up other tweeters within a certain number of miles away. There was a time when I followed so few people that I could catch up every morning with all the tweets they'd made overnight!
Twitter is brilliant! I am always astounded at the plethora of information…have a problem, ask Twitter, need a hug, ask Twitter. Need an answer to a question? Ask twitter. It has totally changed my life, I blog thanks to Twitter and I would never have been able to do half the technical things I do without the back up from people on Twitter. I owe it a lot. Sadly some of the people I tweeted a lot in the early times either don't tweet anymore or very little. One lovely lady, caught up in a war torn city I still worry about and wonder what happened to her and her family.
Some numbers
I joined Twitter 9th February 2009
I follow 794 people
I have 1256 followers
I have tweeted 20,791 times
There are only 3 people that I knew before in 'real life' that are on Twitter but I have made so many more friends. Often I forget that I've never actually met them in person!
I have lost count of the number of people I have now met that I tweet with.
Here are just a few of the best or most memorable but I have so many and I'm sorry if I haven't mentioned you but we would be here all day.
@Sheamus was the first non celebrity that I followed. He was a great support, giving me lots of followfriday's which got me more followers. He is also the founder of Twittercism so knows Twitter inside and out! He taught me Twitter, he is Mr Twitter in my opinion! @Sheamus has a lovely wife @LeanneBennett and they were the first couple that I met on Twitter. I remember asking them if they were sitting on separate laptops tweeting each other.
@darkrock is also one of my first follows. I loved reading his tweets in the run up to his wedding and although he doesn't tweet that often he is always ready to answer a question. He is always on the look out for a windy day!
@mugpi is also a long time favourite. A geocaching dad to three children he is often up late watching films
@RedMummy is kind hearted, generous and always ready to tell it like it is! I like Karen's tweets a lot.
@DulwichMum was a very early follow too. Her sharp, witty, shocking, tongue in cheek tweets would have me in stitches. For a long time I had no idea she had a 'big' blog too.
@southportlush is another early follow/follower, a mum to three girls I still enjoy her tweets very much.
Through @Sheamus I got to follow the lovely couple @Joecassels and @Jocassels
The next most influential person for me is @SandyCalico it was through her tweets that I got to know about blogging and her blog was the first I ever. read. I was so excited when I actually met Sandy last summer at Cybermummy. She is very very lovely and has the most beautiful voice. She should do voice overs!
As these tweeters will vouch I am not very technical but they have without fail always come to my rescue when I ask one of my many many questions whether it be about the Mac, photography or iPhone : @PaulWestlake , @DavidForster , @DarrenGriffin , @MrCRTW
@Lisa_and_Stella , @richardepryor , @wonder_nat I like very much and I have followed forever and @MikeLok is a favourite too. I like looking at his pictures which more often than not involve food!
There are so many people that I follow through their blogs and I enjoy tweeting with but I cannot choose who to mention so just look at my follow list. They are all great.
I cannot miss out the three people I have always known and they are @AdNash , @JoJo_Nash and @Jobywanuk
This has been posted for the Friday Club Carnival at Notes from home.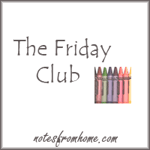 Here are the other entries in this Twitter Carnival:
Hayley at Simply Hayley posts Twitter :: Tips to stay safe!
Heather at SAHM Loving It posts Twitter World – The Extended Friday Follow #ff
Cass at The Diary of a Frugal Family posts Twitterholics Anonymous….
Ghostwritermummy posts Twitter
Kelly from Domestic Goddesque posts The Twitterverse
Maggy at Red Ted Art posts Nothing To Do with Anything and Everything.
Ella at Notes From Home posts her Twitter for Beginners – 5 tips to getting started.