The week has whizzed by and being the unorganised person I am I haven't done this post in good time. I have millions of cupcakes to make and various other sweet tooth rotting delights to make for my daughter's eighth birthday party so I am keeping this short.
When I started blogging I never imagined I could make a difference, with anything! Who on earth would listen to me?
Then I went to the Save the Children blogging conference where I was shown that every tweet, every post, every conversation on the subject was passing on the message and educating people that may not otherwise have heard it any other way. Just last week I tweeted about Save the Children's plea to take action to help the children of Libya and someone tweeted back that they had now taken action. That one person tells someone else and so it goes on and on getting the message out there and hopefully forming a big enough body and pressure to aid that action to actually happen.
Last week there was an interesting debate about Nestle on the Blogger.Ed forum, to be honest I had been completely unaware of the boycott or the reason behind it and so many others were too. From that I would imagine many of us then went on to read more about it and then maybe took action.
I have clicked on tweets, paid money to charity. Asked for sponsorship myself. The power of blogging, and social media is immense and I now truly believe that I can make a difference. I want to make a difference.
This has been posted for this week's Friday Club Carnival at Notes from Home. The theme this week is Ethics and Activism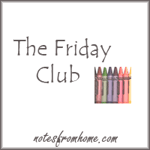 Click on the badge for more information