You can't get more foolproof than this…..everyone knows that children like to make or assemble their own meals don't they? Something that you put in front of them that you've prepared could be rejected but let the child do it themselves then they can't get enough of it.
Right…..this is so difficult so be prepared:
Ingredients
Cooked chicken
Cucumber cut into strips
Sliced tomatoes
Carrots cut into batons
Grated cheese
Anything else that takes your fancy
Wraps
1. Put everything on the table and let the children fill their wraps with whatever they want and then roll it up. Then eat.
Serve with rice and salad.
My other favourite dinner which the children never fail to eat is Pasta Bake. Cook the pasta and make a cheese sauce. Add chopped cooked chicken, and bacon if you like. Add a tin of sweetcorn and mix all the ingredients together. Place in a dish and sprinkle with grated cheese and allow to brown in the oven. Delicious.
This has been posted for the Friday Club at Notes from Home today. Come back later to see all the other posts or click on the badge for more details.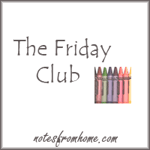 Here are the other entries in this carnival:
Lins at Humming Along posts her tacos recipe.
Jax at Making It Up posts her pizza recipe.
Not so single mum at Diary of a (not so) single mum posts her chicken and stuffing nuggets recipe.
Cass at Frugal Family posts her Yorkshire puddings recipe.
Jen at Table for Eight posts her fishcakes recipe.
Ella at Notes From Home posts her fried rice recipe.