Twas the night before Christmas, when all through the house
Not a creature was stirring, not even a mouse.
The stockings were hung by the chimney with care,
In hopes that St Nicholas soon would be there…………
I've never really thought that we were a family with traditions……I hear of families that make mince pies on Christmas Eve together or decorate gingerbread houses, or put their Christmas tree up on a specific day in December but then I thought some more and yes we do have traditions. They may just be tiny ones but they exist and I am sure if we didn't carry on these 'traditions' one of us would notice.
Firstly, we always choose our Christmas trees together……it can get a bit fraught at times when we can't agree on a tree….yes, we argue over whether it's fat enough, tall enough, green enough, symmetrical?? This year instead of getting the trees delivered we had the big tree tied to the top of the car and the smaller ones inside the car. I kept chuckling to myself as I pulled away feeling that I really had lived now! I imagined that my tree wasn't wrapped in netting but was free on top of the car just as you see in films. The children thought we were silly getting it home like that so I told them to count how many other cars they saw on the journey home with trees on top of them. There were a few!
Being the control freak perfectionist that I am I like to decorate the tree in the lounge…..the colours are matched and the decorations placed carefully on the tree ……I put the lights on the 'children's' tree and then they are free to decorate at whim!
Nativity! What am I going to do when I have no more nativities to go to? I may just have to gatecrash one…..today was Little M's very first nativity. His career in acting is already earmarked! He had lines and he had to pretend to sleep…..he did both, in my opinion and his Nanna's opinion, brilliantly!
Moving on to Christmas Eve, I love Christmas Eve……it is nearly as exciting as Christmas morning. Everyone is happy and excited. I prepare as much as possible so that I can spend more time with the children the next day and I am very possessive about my brussel sprouts. I have to peel the brussel sprouts myself, it is not Christmas if I haven't peeled any brussel sprouts! The children are always keen to go to bed early on Christmas Eve, hoping that the morning will come more quickly so it's an early dinner and bath. I then read 'Twas The Night Before Christmas' by Clement Clarke Moore Oh that is Christmas to me….it makes me tingle. I have loved the story since I was little. Then is the most important part of the day. Potatoes and carrots, for the reindeer, are placed in all five children's stockings all at the same time ready to take up to bed. A mince pie and glass of milk are left for Father Christmas. A newer tradition is hay left outside for the reindeer and now 'magic' reindeer food.
Christmas day! Usually it involves a very early start after an extremely late night but I get so excited as the children drag their stockings into my room. The younger ones climb onto my bed and then all of them open their presents. I think this is the best part of the day for me. Chocolate is eaten in bed and annuals are read and toys played with. We don't go into the lounge until we are all dressed and then gasp when we see that Father Christmas has left presents under the tree too….
I could go on but yes we do have traditions and thank you Ella at Notes from home for inspiring me to think about it.
This has been posted for The Friday Club Seasonal Carnival at Notes from Home. See below for all the other fab posts in the carnival!
Click on the badge for more information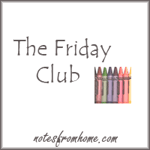 Cass at The Diary of a Frugal Family shows us how she makes snowglobes.
Jenny at Gingerbread House writes about her new family's Christmas traditions.
Jax at Making it Up writes about the Season of goodwill.
Maria at Fab Mums posts a Christmas poem.
Kelly at A Place of My Own posts about giving thoughtful gifts.
Chris at Thinly Spread writes about her family's Christmas traditions.
Jessica at Jessica Milln's Blog writes about Round Robin letters at Christmas.
Ella at Notes From Home posts her family's Christmas traditions.